About Us
Beth Campbell - Owner
Equipment Specialist
Holistic Health Coach
Ordained Minister of Health
National Telemark Champion
US Telemark Ski Team 1986-1992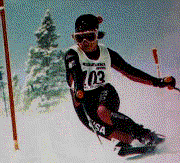 US Telemark Ski Team Member 1986 -1992
1984-1988 Jackson Hole Telemark Series Champion
1985 Crested Butte Nationals 25th Place
1986 Steamboat Nationals 4th Place
1986/87 Sun Valley Telemark Series Champion
1986/87 Vikin Fjord/Outside Magazine National Telemark Series Champion
1987 Aspen Nationals/Vikin Fjord 1st Place Slalom, 1st Place Giant Slalom, 1st Place Slalom
1987/88 Wasatch Telemark Series Champion
1988 Snowbird Nationals 1st place Qualifier
1988 Snowbird 1st Place (3rd place in mens)*
1988/89 USSA Outstanding Service and Dedication Award
1989 Pacific Crest Telemark Series 2nd Place
1988/89, 1989/90 Rocky Mountain Telemark Series Champion
1990/91 Rocky Mountain Telemark Series 2nd Place
1990 National Championships Beaver Creek, CO #1 Qualifier*
1990 National Championships Beaver Creek, CO 1st Place Giant Slalom*
(6th place in mens, Defeated Women's World Champion)
1990 World Championships Aspen, CO 3rd Place Slalom
1990 World Championships 6th Place Giant Slalom
1991 National Champion Stowe, VT 1st Place Slalom, 1st Place Giant Slalom, 1st Place Dual Slalom
1991 1st Place Overall Stowe, VT
1991 World Championships Vemalden Sweden 12th Place Giant Slalom
1993 National Championships Breckenridge, CO 2nd Place Slalom, 2nd Place Giant Slalom, 3rd Place Overall
1996 Utah Winter Games 1st place Slalom, 1st Place Giant Slalom
1998 World Cup Masters Park City, UT 2nd Place Giant Slalom
1998 World Cup Masters Snowbird, UT 1st Place Slalom
I am an ordained and licensed as Minister of Health with the authority to dispense Monastic Medicine to all the people through the American University of Indigenous Medicine in accordance with the provisions of law & order codes and as authorized by resolution NR2016.2014. The American University of Indigenous Medicine provides education for it's practitioners to practice and research wellness programs through the four ancient traditions of natural and sacred healing which cover indigenous, monastic, holistic and/or dynastic healing. Any service and some products require Member to join the Private Network.
I started Great Solutions back in July 1997 to offer unique quality Health Products and educate people about the 9 Laws of Wellness. Now Great Solutions has expanded to offer Great Solutions Summer Body and Theta Wellness Center Services using the products from Great Solutions.
My logo is a person representing the celebration of having balance in all 9 areas of health 1. Water/Hydration 2. Detoxification/Elimination 3. PH Balance 4. Essential Fatty Acids 5. Enzymes 6. Trace Minerals 7. Antioxidants 8. Probiotics 9. Hormone Balancing I am an Equipment Specialist that helps people with wellness devices and healthy lifestyle choices. I am an ordained licensed Minister of Health that specializes in Fitness Equipment, Weight Management, Saunas, Detoxification, Circulation, Pain Relief, Red Light Therapy, Nutritional Supplements, Biofeedback, Muscle Recovery, Relaxation, Balancing Brain Waves and Guided Meditation.
I was a Gymnast for many years until crushing my ankle during warmups on beam. I moved to Jackson Hole, WY in 1981 and fell in love with the mountains and my boyfriend got me into Telemark Skiing. I started Telemark Racing the next winter and worked my way up to being a Member of the US Telemark Ski Team. I held the #1 ranking for Women in the US for many years and was a National Champion. I ranked 3rd place in Slalom at the World Championships and was the only women able to defeat the Norwegian World Champion in 1990. We had hoped to have Telemark Racing in the Olympics in Norway back in 1994 as a demonstration sport, but the budget could not accommodate the expense so I retired from racing and got married. I now have 2 incredible children Duncan and Nadia.

I suffered several ski racing injuries from jumps and hooking gates without binding that released so I had to have surgeries. I understand pain, performance issues, training, injury, recovery and what works to get relief. I will share with you what I have found to speed recovery, decrease pain and inflammation while increasing blood flow. Today there are so many new things athletes and individuals can use to excel and take things to a new level or just feel better.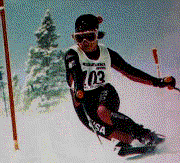 The stress hormones are a killer and makes it is impossible to lose weight. One of the biggest things that I have learned to help manage the stress and lose weight is to lower cortisol, balance my chakras and meditate. Getting relief from the constant stress or fight or flight mode helps to lower cortisol levels making weight loss possible when combined with proper diet and exercise. When stress is high then Cortisol is high and makes it impossible to lose weight. When you are able to get out of fight or flight you can lower your Cortisol levels and through meditation, breathing and using frequencies it is possible to overcome so many challenges. Emotions and negative thoughts can cause havoc on everything and it is difficult to just snap out of depression, anxiety or PTSD. I have many devices that I use and have tried to deal with these issues but had a hard time with getting into the zone and just breathing and relaxing. I love using the Float Tanks and magnesium to relax and meditate but still have a hard time getting into the zone or Theta State. A year ago I found the answer to get into the zone in minutes and make progress to deal with my very busy brain so I can get out of fight or flight and rebuild the neurological pathways in my brain. Now I have my own Thetachamber so I can share it with others.
The Thetachamber is amazing and works in just 30 minutes by combining 5 therapies at once. The ultimate escape from stress and helps to achieve deep relaxation quickly while combating stress or recovering from addiction or trauma. Using the Thetachamber for 28 days in a row helps to reprogram the brains neurological pathways and normalize hormones while lifting your mood. After the 28 days you can use the Thetachamber as desired for relaxation and guided meditation.
2020 - 2022 were very stressful and emotional years so it was easy to gain weight and not be as active with so much constant trauma. Now it is time to recover and get back to homeostasis.
The 9 Laws of Wellness and what we consume are the keys to optimum health. The Thetachamber is a miracle for me and brings me peace and serenity leaving me feel renewed and happy.
Be aware and continue to learn as new products, supplements and food continue to come out. Everyday is a new day and today is the beginning of the rest of your life. Be Well!
Wellness Director - Garry Whittaker